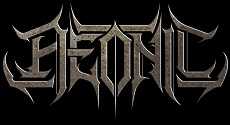 Bilbo,Technical Death Metal (Activa) 
Formación Actual
Pete: Voz
Iñigo: Guitarra
Gontzal: Batería
Oscar: Guitarra
Biografía
At the end of 2015, with several projects in common behind them, the Blast beat's Doctor Gontzal (Drums) and the Guttural Poet Peter (Vocals, until then as guitarrist) decided to start a new project. This time the most ambitious and mature.

Aspiring to a new musical category, with technical riffs, blasting drums at full throttle, guttural and blackened vocals, a dark essence brought to the present.

Showing the complexity level that the project was demanding, they needed to talk with the Specialist Iñigo (Guitars), initiating a constant brainstorm that ended up condensing in their debut Ep "Void Of Existence". Recorded at Chromacity Studios in Spring of
2016.

With everything ready for the release, the chaos made them met the Godfather Oscar (second
Guitarrist), and they couldn't let him escape.

Now with this awesome line-up they're looking for new ways for spreading their obscure and intense new works...
Discografía
Void Of Existence E.P. 2017 




Tracklist




1. Standstill
2. Void Of Existence
3. Throne Of The Feared
4. Thy Majesty From The Stars



Tan Real Como El Puto Infierno Vol.19 Split 2018 




Tracklist




1. 13TRL - Erik (The Arrival)
2. Aeonic - Throne Of The Feared
3. Burning Cuchillo - Días Grises
4. Cauldron - Severe Martyrdom
5. Damned Ritual - Witness Me
6. Evil Impulse - The Last Breath
7. Galiryon - The Hunt
8. Hex - Worshipping Falsehood
9. Hyban Draco - Nowhere Lights
10. Impaled Corpses - Cidade Sen Lei
11. Narwhale - Glaucus
12. Nekrocake - Sucio Humano
13. Nemesis Occulta - Crown Of Laments
14. Obliterated Swarm - Liomower
15. Oslo Ovnies - Ángel Muerto
16. Púrpura - True God
17. Scila - Black Tongue
18. Silencio A Gritos - Miedo A Romper
19. Sota Terra - Sota Terra



Audios
Lyric Videos
Enlaces