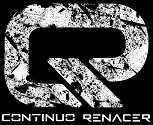 Beasain,Progressive Death Metal (Activa) 
Formación Actual
Javier Gutierrez: Guitarra
Arkaitz Carrasco: Bajo
Imanol Aizpuru: Batería

Componentes Anteriores
Jon: Bajo
Xabier Martínez: Batería
Diego Piñeiro: Guitarra
Demonio: Voz
Biografía
CONTINUO RENACER was founded by Javier Gutierrez (guitars) and Xabier Martinez (drums) in 1994.They played brutal,technical death metal. Later, Diego Piñeiro (guitars), Jon (bass) and Demonio (vocals) joined the band,and after months of rehearsal entered the studio to record their debut promo cd. The subsequent promo received great acclaim in the Spanish underground scene.

After several line up changes, a new era dawned for CONTINUO RENACER.In the summer of 2000, Arkaitz "Kako" Carrasco (bass player and sound engineer) joined the band.This established them as a trio with Gutierrez, Martinez and Carrasco.

The band turned to a new musical direction,a more technical,progressive and jazz oriented fusion,giving the band a totally innovative and fresh sound. After several months of recording tracks for a new album, Xabi Martinez left the band and drummer Imanol Aizpuru replaced him. In 2005 CONTINUO RENACER released their self-titled debut.

CONTINUO RENACER has already finnished recording their 2nd album entitled "The great escape". It will be released on October the 28th.
Discografía
Continuo Renacer Album 2005 




Tracklist




1. The Intruder (Instrumental)
2. The Unknown Man (Instrumental)
3. Fusion for Suckers (Instrumental)
4. The Blessing Of The Damned Ones (Instrumental)
5. Lost In The Black Matter (Instrumental)
6. The Chaos Theory... (Instrumental)
7. ... & The Harmony Therapy (Instrumental)
8. Tap That Angel (Instrumental)



The Great Escape Album 2011 




Tracklist




1. The Great Escape (Instrumental)
2. Give Up Tomorrow (Instrumental)
3. For Those Things To Come (Instrumental)
4. Facing Fears (Instrumental)
5. The Newborn (Instrumental)



Enlaces