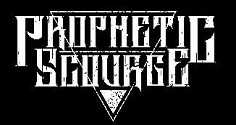 Baiona,Progressive Death Metal (Activa) 
Formación Actual
Robin Claude: Guitarra
Josh Smith: Voz
Jon Erviti: Batería
Romain Larregain: Guitarra
Thibault Claude: Bajo
Biografía
PROPHETIC SCOURGE est né en 2013 sur les cendres du groupe de death-metal Bayonnais SCARS ON MURMANSK. Jon (batterie) et Romain (Guitare), Robin et Josh d'ALSHAMATH (respectivement guitare et chant) et Thibault a la basse pour créer le line-up de ce nouveau projet.
La musique du combo s'inscrit dans un registre death, teinté d'influences black-métal et progressives.


Prophetic Scourge was born in the ashes of Bayonne-based death metal band SCARS ON MURMANSK. Surviving members Jon (Drums) and Romain (Guitar), Robin and Josh from ALSHAMATH (Guitar and Vocals respectively) and Thibault on bass, to join the line-up of this new project.

The band plays a solid Death Metal, enhanced by hints of Black Metal and Prog.
Discografía
Corrupt Karmic Invigilators Demo 2015 




Tracklist




1. The Magus - Man Holds His Gods In His Mind
2. The Witchfinder - Until Your Flesh Departs
3. The Martyr - A Trial On A Field Of Shadows
4. The God-King - Awaiting The Gift Of Osiris
5. The Cultist - The Rise Of The Great Lord Cthulhu



THE MEDIUM - A Spider Goddes Is Revealed Single 2018 




Tracklist




1. THE MEDIUM - A Spider Goddes Is Revealed



Calvary Album 2018 




Tracklist




1. The Penitent - Confrère De La miséricorde
2. The Witchfinder: Until Your Flesh Departs
3. The Flagellant - Whipping To Epiphany
4. The Medium - A Spider Goddes Is Revealed
5. The Hierophant - Bringing Lost Sheep Back To The Fold
6. The Alchemist - Caging The Homunculi (In Water At Box)
7. The Apostate: Enlightening Inviting Denial
8. The Cultist - The Rise Of The Great Lord Cthulhu



Gnosis - A Sorrower's Odyssey Album 2021 




Tracklist




1. The King - An Odyssey Begins Aright
2. The Cyclops - Blinded In The Garden Of Eris
3. The Fury - Of Tasteless Wine And Sorrow's Flesh
4. The Psychopomp - Deaf To The Siren's Hail
5. The Dragonchaser - Crowned On The Throne Of Loti
6. The Mendicant - Known Only By Touch
7. The Tyrant - Wading 'Ward Solace He Lucidly Drowns



Audios
Vídeos
Enlaces