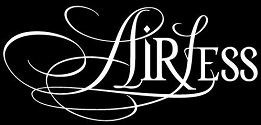 Santurtzi/Portugalete/Barakaldo,Hard Rock (Disuelta) 
Formación Actual
Toni Amboaje: Voz
Miguel Manjon: Bajo
Pako Martinez: Bateria
Robert Rodrigo: Guitarra

Componentes Anteriores
Iñaki Lazkano: Voz
Biografía
(Su guitarrista es
Robert R. Rodrigo
)
Airless son una banda Bizkaina de Hard rock melódico, con 2 discos en su trayectoria y vuelven otra vez con su tercer disco que saldrá a la venta a principios el 2009 llamado "FIGHT".
Airless comienza en enero del 2002 y no tardan en ser fichados por la compañía Vinny Records. El disco debut de la banda salió a la venta en Junio de 2002 llamado "AIRLESS", producido por Carlos Creador , el cual fue distribuido por todo el mundo, y en Japón lo editó y lo distribuyó MELLOW MUSIC.
Este disco fue presentado en sociedad en la madrileña sala Ritmo y compás. AIRLESS formó parte de un doble CD recopilatorio "Singing to the world", editado por la compañía FRONTIERS ,en memoria de las personas fallecidas en el atentado de las torres gemelas. En éste doble CD también participaron gente como Jason Becker, Tesla, Bonie Tyler, Doro, Paul Gilbert, Paul Nelson, Kane Roberts, Jimmy Hendrix y un largo etc...Este CD fue distribuido en todo el mundo.
Su segundo disco 2nd round, también fue producido por Carlos Creador y editado por la compañía finlandesa LION MUSIC;
Y repitieron en Japón con la compañía MELLOWMUSIC.
Con 2nd Round , giraron y compartieron escenario con bandas de renombre como Riot, Tyketto,Dare y mas bandas de renombre…
Miembros del grupo: Iñaki Lazakano ( voz ), Miguel Manjon ( bajo y Endorser de Yamaha ),Pako Martinez ( Bateria y Endorser de PEARL), y Robert Rodrigo ( Guitarra y Endorser de las marcas IBANEZ, DIMARZIO y Amplificadores ORANGE)
Ahora regresan con "FIGHT" su tercer album que saldrá a la venta el 5 de diciembre 2008 y que será de nuevo LION MUSIC la compañía.
Discografía
Airless Album 2002 




Tracklist




1. Brief Love
2. Autumn Leaves
3. The Truth
4. Holding On
5. Until The Sun Rise
6. Without You
7. The Answer
8. Lost
9. Listen To Your Heart
10. When I Look Into Your Eyes
11. The First One (Bonustrack Europe)
12. Runaway (Bonustrack Japan)
13. No Tomorrow (Bonustrack Japan)



Singing To The World Split 2003 




Tracklist






2nd Round Album Japan Edition Album 2005 




Tracklist




1. 2nd Round
2. Prayers Are Not Enough
3. Don't You Go
4. It's Up To You
5. Handfull Of Lies
6. The Last Siem
7. Cross The Line
8. The Storm
9. Good Times (en memoria de Javi Ruano)
10. Never Fall For Love
11. The Darkness
12. Mutter Of Time (Bonustrack Japan)



2nd Round Album 2005 




Tracklist




1. 2nd Round
2. Prayers Are Not Enough
3. Don't You Go
4. It's Up To You
5. Handfull Of Lies
6. The Last Siem
7. Cross The Line
8. The Storm
9. Good Times (en memoria de Javi Ruano)
10. Never Fall For Love
11. The Darkness



Guitarra Total Nº 128 Split 2008 




Tracklist






Fight Album 2008 




Tracklist




1. Don't Give Up
2. Now Or Never
3. Time To Say Good Bye
4. Twist Of The Wrist
5. Crying For Your Love
6. Switch Off The Light
7. Suffering
8. Blame (The Darkness Part II)
9. I Don't Need Your Words
10. One Last Kiss
11. Fight



Embrace The Sun - The Lion Music Japan Benefit Project Split 2011 




Tracklist




1. Mattsson - Mother
2. Milan Polak - End Of Time
3. Anthriel - Circle Of Life
4. Airless - Second Chance
5. Dreyelands - Life Is Worth The Pain
6. Ashent - Disappearance
7. Mastercastle - Sakura
8. Locomotive Breath - Rise Up
9. Grönholm - Believe
10. Marco Sfogli - Stand Alone
11. Mindsplit - Guardian Angel
12. Missing Tide - Falling
13. Infinity Overture - Do You Care?
14. Jennifer Batten - Sakura Season
15. Overdrive - New Beginning
16. Emir Hot - Fear Of The Storm
17. Venturia - On The Brink
18. Mistheria - Kibou
19. Section A - Survive
20. Status Minor - Drama
21. Mastermind - Time Stands Still
22. Tomorrow's Eve - Black Barren Lands
23. Iron Mask - Sons Of The Sun
24. Astra - Voice From Within
25. Benny Jansson - Savior
26. Early Cross - Cairn
27. Winterlong - Failed Connection
28. The Lions - Embrace The Sun



Changes Album 2013 




Tracklist




1. Start Again
2. I Don't Care
3. Upstream
4. Dead Inside
5. Changes
6. Till The End Of Time
7. Rescue Me
8. Gone Too Far
9. Reach For You
10. Come Back Home
11. Latest Prophecy



Best Of & Rarities Compilation 2014 




Tracklist




Best Of ( Cd 1)

1. Autumn Leaves (Airless - 2001)
2. The Truth (Airless - 2001)
3. Holding On (Airless - 2001)
4. It's Up To You (2nd Round - 2004)
5. 2nd Round (2nd Round - 2004)
6. Now Or Never (Fight - 2008)
7. Don't Give Up (Fight - 2008)
8. Time To Say Goodbye (Fight - 2008)
9. Crying For Your Love (Fight - 2008)
10. Start Again (Changes - 2013)
11. I Don't Care (Changes - 2013)
12. Upstream (Changes - 2013)
13. Till The End Of Time (Changes - 2013)

Rarities (Cd 2)

1. Matter Of Time (Demo - 1999)
2. Soul For Hire (Demo - 1999)
3. Anger (RRR - 2000)
4. When I Look Into Your Eyes (RRR 2000)
5. Runaway (Airless - 2001 Japanese Bonustrack)
6. No Tomorrow (Airless - 2001 Japanese Bonustrack)
7. Far Way (Unreleased From Fight - 2008)
8. 2nd Chance (Embrace The Sun Compilation - 2011)
9. The Reason (Unreleased Track From Changes - 2013)
10. Otra Oportunidad (Start Again Spanish Version - 2013)



Make It Right E.P. 2016 




Tracklist




1. Make It Right
2. Hey Money
3. Then I Walk Away
4. We Were Born For This



Best Of & Rarities (Digital Album) Compilation 2016 




Tracklist




1. Autumn Leaves (Airless-2002)
2. The Truth (Airless-2002)
3. Holding On (Airless-2002)
4. It's Up To You (2nd Round-2005)
5. 2nd Round (2nd Round-2005)
6. Now Or Never (Fight-2008)
7. Don't Give Up (Fight-2008)
8. Time To Say Goodbye (Fight-2008)
9. Crying For Your Love (Fight-2008)
10. Start Again (Changes-2013)
11. I Don't Care (Changes-2013)
12. Upstream (Changes-2013)
13. Till The End Of Time (Changes-2013)
14. Far Way (Unreleased Track From Fight-2008)
15. The Reason (Unreleased Track From Changes-2013)
16. Otra Oportunidad (Start Again Spanish Version)
17. Qué Más Da (I Don't Care Spanish Version)



Guitar Symphony Compilado 2017 Split 2017 Descarga




Tracklist




1. Joe Stump - Bullet Train Express (2017)
2. Day Of Reckoning - The Voice Of Morgan Freeman
3. Sebastián Salinas - Capriccio Dantesco
4. Hess - Sailor's Cross
5. Moises Olvera - Khitarium
6. Cherokee - El Flautista
7. Matthew Mills - The Final Curtain
8. Black Side - Guerra Santa
9. Dean Cascione - Shred Crusade
10. Mistheria - Lies And Deception
11. Vandré Nascimiento - Into Your Eyes
12. Daedric Tales - Cult Of Ashes
13. Atanas Shishkov - Dreamstime
14. Crimson Wind - In Vain
15. Faraz Anwat - Maze
16. Spelled Moon - A War Of Shadows
17. Aly - Sirenas Poseídas En La Mente De Omicron
18. Turk Tresize - Rollin'
19. Mario Segovia - Endless Engineering
20. Azrael - 1001 Caminos
21. Carlos Urquidi - Father's Legacy
22. Piston Cobra - Mujer Salvaje
23. Arturo Ocampo - Light Over Darkness
24. Far Beyond Hell - Between The Flames Of Hell
25. Lucas Mucciante's Thunderball - Before The King
26. Airless - Hey Money
27. Percy Aleksander - Danza De Los Ríos
28. Mighty Thor - El Metal No Morirá
29. Walter Berterame - Speed In My DNA
30. Ira De Dios - El Reloj De Dios
31. Jaimes Shred - Angeles En La Noche
32. Fortte - Aquellos Lo Impiden
33. Hugo Balbi - Requiem
34. Arida Vortex - Tons Of Metal
35. Juan Corrales Rock Band - Recuerdo (Perfectos Extraños II)
36. Destroyed By The Silence - Retorno
37. Pete Pachio - Son Of Judas
38. For The Right Nothing - Sometimes My Heart
39. Lucas Diaz Falabella - Duro Al Pedal
40. Knock Out - Fuego Latente
41. Maestanttore - Valkaan's Song
42. Brutal Abduction - Blasphemy Of Salvation
43. Jose Juan Garcöa Angel - Demonic Paradise
44. Curwen - I Can Fly
45. Dangerous Creek - Falso Sentimiento
46. Lancer Of Redemption - La Muerte Del Guerrero
47. Cdrom - Open Your Eyes
48. Symphony Of Salem - Triste Ruina
49. Aggression - Desollador
50. Triangle Space - Whisper Full Moon
51. Lisel - Obsesión
52. Osmeth - Represión
53. The Full's Band - Entre Muertos
54. Talion - Sangre Sagrada
55. Lucy Vox - Velero
56. Luciana - Sigue Sigue
57. Dominus Virtutem - Nuclear Attack From Heaven
58. Mal-Amen - El Universo Es Más



Audios
Vídeos
Lyric Videos
Enlaces