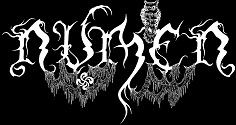 Arrasate,Black/Folk Metal (Activa) 
Formación Actual
Aritz: Voz
Jabo: Guitarra
Xabi: Guitarra
Lander: Bajo, Flauta, Alboka
Eöl: Teclados & Coros
Eihar: Batería

Componentes Anteriores
Alfred Berengena: Batería (Sesión)
Otuto: Bajo
Karlos: Batería
Largo: Batería
Josu: Batería
Unai: Guitarra
Haimar: Teclados
Mikel: Oboe, Flauta
Biografía
Originally formed in 1997, Numen is an extreme music band coming from the Basque Country. The band plays black metal with some influences of the folk and traditional music of their land. All lyrics are written in euskera, their mother tongue, and they talk about old traditions, legends and mythology, always with a strong feeling against Christianity. By late 1999 the band recorded the first studio MCD "Haize sorginduen intziriak" with 5 black metal tracks. In 2001 Numen released their first full lenght CD "Galdutako itxaropenaren eresia", a more extreme recording based on Basque legends and history, as well as its dark and magic mythology.

In the beginning of 2003 "...jarrai beza kondairak" was released, a MCD which compiled 4 new tracks , and the previously sold out MCD "Haize sorginduen intziriak" as bonus. May 2004, the band returned with "Basoaren semeak" , an extreme piece of basque black metal.Already in 2007, celebrating its 10th anniversary, Numen returns once again with the release of its third full-length called "Numen". Fast old school BM from the basque woods, following the path of the ancient cult without compromise. BASQUE CULT BLACK METAL!
Discografía
Haize Sorginduen Intziriak E.P. 2000 




Tracklist




1. Haize Sorginduen Intziriak
2. Ehiztari Beltza
3. Heriotza Eta Geroa
4. Gaua Gauekoentzat...
5. Beotibar (Benito Lertxundi Cover)



Galdutako Itxaropenaren Eresia Album 2001 




Tracklist




1. Gauerdia Erortzean
2. Denboraren Iluntasuna
3. Gau Hotz Isilaren Magalean
4. Mendiaren Irrintzia
5. Arbasoen Oroimenean Kulunka
6. Galdutako Itxaropenaren Eresia
7. Oinazearen Itzalak
8. Iheslaria
9. Ama Lurra
10. Galdutako Itxaropenaren Eresia (Bigarren Atala)



Jarrai Beza Kondairak E.P. 2003 




Tracklist




1. Eskualdunak
2. Inguma
3. Mari (Su Ta Gar Cover)
4. Ama Lurra (Akoustik)
5. Haize Sorginduen Intziriak
6. Ehiztari Beltza
7. Heriotza Eta Geroa
8. Gaua Gauekoentzat...
9. Beotibar



Basoaren Semeak Album 2004 




Tracklist




1. Arranoaren Ahotsa
2. Nortasunaren Ateak
3. Eskualdunak
4. Ekaitzaren Deiadarra
5. Suzko Hitzak
6. Guda Baten Erdian
7. Negu
8. Hilbeteko Gauetan...



Numen Album 2007 




Tracklist




1. Egunsentiaren Heriotza
2. Gauaren Irrifarre Izkutua
3. Etsipenaren Ispilu
4. Ahanzturaren Hilobia
5. Belearen Hegaldiak... Iluntasuna Dakar
6. Isiltasunaren Hots Hutsa



Numen Album 2011 




Tracklist




1. Egunsentiaren Heriotza
2. Gauaren Irrifarre Izkutua
3. Etsipenaren Ispilu
4. Ahanzturaren Hilobia
5. Belearen Hegaldiak... Iluntasuna Dakar
6. Isiltasunaren Hots Hutsa



Iluntasuna Besarkatu Nuen Betiko Album 2019 




Tracklist




1. Iluntasuna Soilik
2. Lautada Izoztuetan
3. Pairamena
4. Behin Hilko Naiz
5. Nire Arnasean Biziko Da Gaua
6. Itzaletan Solasean
7. Iraganeko Errautsak
8. Itzaltzuko Bardoari



Resto Discografía
Spain Kills Vol.03: Black Metal Split 2008 




Tracklist




1. Gothmog - The Awakening Of Lord Strigoi
2. Numen - Ahanzturaraen Hilobia
3. Godus - Unholy Execution
4. Empty - Manifest Of Endless Sorrow Insanity
5. Nexus 6 - The Agitator
6. Between The Frost - Wolf's Eyes
7. Frozen - The Unborn
8. Marthyrium - Infernal Ritual Massacre
9. The Bleeding Sun - Babel Y2K
10. Runic - Ambush
11. Occultum Lapidem - Mar De Sangre
12. Daemonlord - Riding The Mushhushu
13. Brutal Slaughter - Architect Of Chaos
14. Hyban Draco - Through Thunder They Will Come
15. Looking For Mystica - Melissa
16. Yskelgroth - Blackest Of Blackness



Les Acteurs De L'ombre Cd Sampler MMXIX Split 2019 




Tracklist




1. Asphodele - Gueules Crasses (Promo Master)
2. Mur - I See Through Stones
3. Maïeutiste - Infinitus
4. Numen - Iluntasuna Soilik
5. Darkenhöld - Le Sanctuaire De La Vouivre
6. Cepheide - Lucide (Edit Version)
7. Griffon - Souviens-toi, Karbala
8. Time Lurker - Unstable Night
9. Triste Terre - Oeuvre Au Noir (Edit Version)
10. Heaume Mortal - Erblicket Die Tochter Des Firmament (Burzum Cover)
11. Pensees Nocturnes - L'Alpha Mal
12. Blurr Thrower - Par-delà Les Aubes (Edit Version)
13. Bâ'a - Les Terres De La Terreur
14. Vɔid - Woven Woods



Necromance Digital Magazine Recopilatorio - Volumen 41 Split 2019 




Tracklist




1. Noctem (Esp) - Dichotomy Of Malignancy
2. Mudface (Usa) - Warhorse
3. Nuclear Revenge (Esp) - Victims Of The Black Flame
4. Barbarian Swords (Esp) - Totemic Anal Turbofucker
5. Strappado (Esp) - Truth Through Torture
6. Elusion (Bel) - The Strive
7. Paganland (Ukr) - In The Heart Forever
8. Ungoliantha (Ukr) - The Old Blind Man
9. Numen (Esp) - Iluntasuna Soilik
10. Mad-era (Esp) - Facebreaker



Audios
Vídeos
Enlaces